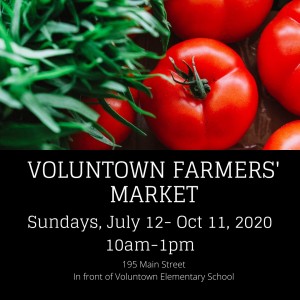 Our returning vendors are: Lakeview Farms, Sisu Finn Soap LLC, B-Z-B Farm, Moonlight Farmers, Country Comfort cooking LLC
We had to make a few changes this year due to Covid 19, and to comply with recommendations from the CT DOH and CDC .
*There will be no music or special events this year and the picnic tables will not be set up.
*We are encouraging people to come and go, and not hang out and socialize.
* There will be a marked entrance and exit to the vendor area.
* There will be one way shopping flow through the vendor area.
* All shoppers are encouraged to wear masks and practice 6ft social distancing when ever possible.
Thank you and we look forward to seeing everyone!!!
We are always accepting vendors. Contact us for more information edc@voluntown.gov.