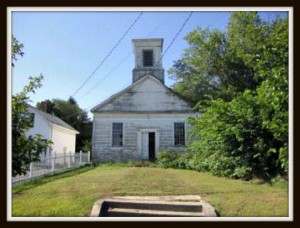 The old Voluntown Methodist Church has significant historical value, especially to the Voluntown community.   It has spiritually served generations of area residents from prior to 1841 until the late 1960s.   It is one of the last churches of its kind still standing in New England that exhibits a unique architecture with a sloping floor and the pulpit located at the entry rather than the rear of the building.
Because of its historical significance and long record of contributions to the area, it has recently been added to the Connecticut State Historical Register. This is a tribute that is not easily achieved.   This designation in part makes it eligible for state restoration grants.
Because of its history, location, and uniqueness, it deserves every effort needed to save and restore it to a safe and sound condition, where it can be  enjoyed by the Voluntown community for many generations to come.   It would stand as a beacon and constant reminder of Voluntown's unique heritage.
'Like' Voluntown Historical Meeting House Project on Facebook.
For more information or if you have any questions, contact Ty Cool at (860)591-4075 or email voluntownedc@gmail.com